Happy New Year!   2019 is here!   I hope all my readers had a wonderful holiday break and are ready to hit the ground running in this new year.  For those new to my monthly musings, I delight folks around the world with my monthly insights into the real estate in Fort Worth and surrounding areas.  I tackle three real estate stories that I believe exemplify our real estate market in the last month (or just interesting news pieces to me).  I then go into detail by looking at three numbers we all need to know if you do real estate in Fort Worth.  If you want more in-depth look at the market in real estate, be sure to check out my other market updates for specific price ranges.   You can find them here.
For the first story, we are going to go to my favorite local real estate blog over at the Dallas Morning news.   A recent post goes into detail about how much our homes were worth in 2018.  Yes, the market was slower in the second half of the year, but we still saw some record breaking numbers with $510 Billion in property valuation topping that list of numbers.    We added $14.6 billion in value in 2018.  Nice!  Of course, the post does mention that value appreciation of homes does not mean much to the end consumer unless they are buying or selling real estate.   You can borrow against your equity, but Zillow top economist, Aaron Terrazas, indicates that he doesn't think most home owners will take that route in 2019, opting instead to hold onto their wealth.   Overall, we paled in comparison to the East and West Cost that saw their overall value in the trillion of dollars, but still a good year overall for homeowners' wealth!
Over at Dallas CultureMap, they go into what we can expect in terms of mortgage rates in 2019.   It doesn't look good for buyers pocket books if they want to stay with their current budget level for their new home.   The post said many expect the mortgage interest rate to rise to 5% in 2019.   What does this mean for a Fort Worth home buyer?
In DFW, a buyer with the median household income of $67,605 could reasonably afford a home priced at $410,700 at current interest rates (around 4.6 percent), Zillow says. But if the typical interest rate jumped to 5 percent, the same buyer would need to shop for a $372,100 home to maintain the same monthly mortgage payment, according to the Zillow analysis. That's a price difference of $38,600.
The post does a great job of emphasizing that a change in interest rate does not mean buyers should exit the market.  Instead, buyers should reevaluate their current strategy and lower their expectations for what they can realistically afford.  Every market will have its challenges, and with mortgage interest still being historically low, buyers should still consider moving forward with their purchase in 2019.   If you want, or need to, purchase a house in 2019, you should do it, but just be smart about it.
Our last news article comes from Ingo Winzer at Forbes, where the best markets for real estate investors in 2019 are reviewed.    Great post!   The advice is sound and unique enough to make it worth any real estate investor's time.    My favorite advice is one that the economy and job market might not be as good as some numbers seem to indicate to the economists.  We are not adding jobs as quickly and pay has not improved in the last decade for a majority of Americans.   What this means is that rentals will be still high in demand, at least the lower end of the rental market.   I am also thrilled to see Fort Worth was on the list with solid job growth and sales prices being in the midrange.  Winzer does recommend you move fast in Fort Worth if you are thinking about investing since this market will get more expensive in 2019.
Before we get into the numbers, here is the coverage area of the numbers.   We believe the Alliance Corridor is a good representation of what is happening around the metroplex (population boom, sales price appreciation, low inventory, etc).  If you would like numbers for a specific area of North Texas, just let us know.
December Inventory of Homes
We saw a 25% increase in inventory from December 2017.  In overall terms, this means it takes 2 months for the sellers to sell all their homes to the buyers currently looking for one.   Six months is considered a normal amount of time for inventory to turn over completely.    Why has inventory gone up so much?   As you might have read recently, or heard, the market has slowed down from its frantic pace we have seen over the last few years.   With less homes selling, or taking longer to sell, you will have more homes on the market at any one time.   Buyers have also taken a step back from the market in the last six months so this ramps up the inventory numbers as well.
What this means for sellers:  Sellers should look at the market and realize that it might be time to sell, especially for investors who are devising a exit strategy for parts of their portfolio.   The inventory is still historically small, but how long it stays this tight is questionable at this point of time.   Low inventory means less competition for you, drives up the price of your home and makes most buyers very anxious to purchase a house before "the good one got away."   It is recommended you call your listing agent to discuss your options if you have been waiting to sell at the market's high point.  We might already be there.
What this means for buyers:  Don't panic any longer!   Inventory might still be tight, but with this increase in inventory, you can relax a little and not have to rush to make an offer on a property that only partially meets your criteria.   Of course, in any market, you will have those top notch properties that show well and are price correctly so they fly off the market.   So, don't relax too much.   You can take a breath tho.  For those buyers who walked away because of the frustration of nothing to see, it might be time to take another look.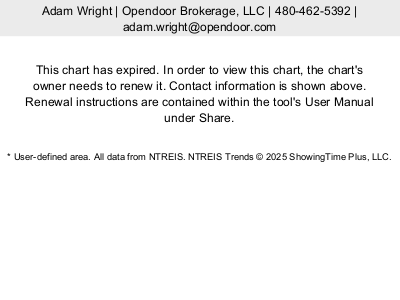 December Median Days on Market
Our area saw an uptick in the median days on market to 30 days.   This is a 20 percent increase from 2018 and a 67% increase from 2017.    It is also one day longer than we saw in November 2018.  As agents will tell you, the statistic matches what they are seeing in the field.  Most homes today, even some of the more attractive homes, are simply not selling as fast.   Our area is not an oddity either.  There are some areas in the Dallas-Fort Worth region that see even longer days on market with some areas could even be labeled as a buyer's market.  Buyers in these areas have a much larger selection than this time last year.
What this means for sellers:  Sellers need to set their expectation that their homes will be on the market longer, which means sellers will deal with more showings and have to keep their homes looking in pristine shape for an extended period of time.   For the most part, if you want to sell your home at top price, the showings and upkeep of the home, is part of the price you pay to sell your home in the traditional manner.  There are other options available now (buy now services), but they might not bring you top market price for your home.    Sellers need to weigh the hassle of longer days on the market versus the economics of selling quickly.
What this means for buyers:  Buyers should go back to their buyer's agent and ask them to reevaluate their target areas, broaden the search a bit to see if there are areas starting to show some strain from the longer days on market.   You might be able to find a seller willing to negotiate on the sale price in these areas.    Certain areas are being more open to straight up discounted cash offers again because of the longer time it is taking to sell a home.    Investors should take note of this development as they mull over whether to leverage their funds through financing or pay cash for properties.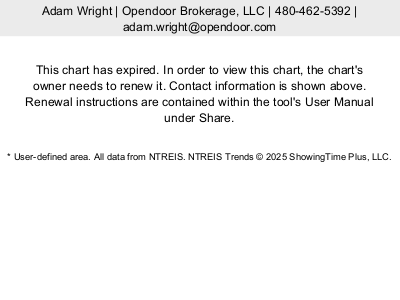 December Average Sales Price
We are continuing to see sales appreciation in our area as we have seen in the entire region.   The new average sales price is just over $334K, which is a 6% increase from this time last year.   In November 2018, the average sales price was $316K so it looks like the market has continued to push up sales prices.  It will be interesting to see if the 5% to 6% is sustained throughout 2019.  Check back to this monthly post to find out the answer.
What this means for sellers:  Sale price appreciation is still being realized in many parts of the North Texas region.   Sellers should discuss at length, however, with their listing agents the pros and cons of listing their price at the highest point in the range.    Many agents from the field will tell you that we are seeing more and more price drops as sellers (and their listing agents) realize that they cannot get what they originally wanted for the home.   Sellers should use caution and price their homes moderately as buyers are realizing that they can just wait for the price to drop.
What this means for buyers:  Buyers should rejoice at the modest sales appreciation we have seen in the last six months.   For so long, the market was overheated with sales prices going up over much higher every month.   With the looming increase in interest rates, the slowdown means that more homes might be in their revised budget limits despite the greater cost to borrow funds.