Welcome to my July post about real estate in Fort Worth and the surrounding areas.  In this post, I highlight some trendy news over the last month and give you a snapshot of real estate in my main coverage area.  We are halfway through the year!  July is the month we celebrate the independence of this country and we play the All-Star game in baseball.  July also happens to mean that we are six weeks away from the start of school.   The mood starts to shift was we leave our vacations behind and start to focus on what needs to be done for the new school year.  I only have one more student left at home as my youngest child is a senior this year.   I am going to enjoy it while I can.     Let's get to the news!
This month, we have seen the first signs of a real estate slowdown, although it is only the beginnings.   Steve Brown over at Dallas Morning News highlights the numbers in one of his monthly posts.   Real estate agents sold 10,754 in June of this year, which happens to be 3% less than June 2017.   We also saw only a 1% increase in the first six months of this year from the same period last year.   Why the change?   Experts in the article are blaming a smaller number of companies relocating to the area.
Industry insiders blame the slowdown on fewer corporate relocations to the area and the impact of several years of steep price increases. Higher mortgage rates this year may also be a factor for some potential buyers.
 Home prices are still going up at a 7% clip with an average high of $273K.   Homes under $200k are still hard to find while higher price points, $700k or higher,  are seeing slower sales.   The range of $200k to $500k seem to the strongest range of sales for the area so far this year.   We are seeing an increase inventory, 12% more homes for sale, than we did this time last year, but the inventory is still tight overall.  The bottom line is that real estate in Fort Worth, and the entire metroplex, seems to be a period of flux this year as compared to the previous five.  We will need to watch this closely.
One aspect of the market that has seen an increase are new builds.  Once again, Steve Brown does a wonderful job of telling us about real estate with this post.   We saw a 12% increase in the number of new homes being built from this time last year.   Some additional good news is that most of this growth has been at more affordable price points, $250K to $350K range. It seems builders have finally realized that you can keep costs down, build smaller houses and buyers will still want to buy them.   In fact, I would guess that they are busy as preowned inventory is still very low historically so more buyers will be coming to new builds.   The post goes into some detail about how things might not stay at this level for long as expenses are going up across the board and builders realize less profit with smaller homes.  For now, there are plenty of new homes available for buyers with over 9000 empty homes waiting for buyers.   I realize that many can't even afford the smaller price points, but at least builders are making an effort to build more affordable homes.
The last article, also from Steve Brown, highlights a quirky statistic that I am sure many in Texas (and around the country in this current heat wave) find difficult to believe.  Ten percent of the homes sold in the area do not come with air conditioning.   I know that seems absurd as AC in Texas should be as part of the home as the roof and floors.  You just can't live without it.  However, there are plenty that do.   I have been helping several first time home buyers lately and many of the homes they can afford come without central air and heat.  It is a pricey upgrade so many of the lower price point homes have window units instead.  I have been surprised how many people don't seem to care as long as they have a way to keep cool.   I think it is a sign of the market as a whole that people are willing to settle for anything with four walls and a door.
Before we get to the numbers, I want share my main geographic area, which is also the area I use for the numbers.   Don't be mislead!  I will do real estate anywhere in Texas, but since I live in this area, it is really where I like to do most of my work.
June Inventory of Homes
The number of homes on the market, as measured by how quickly the current inventory will sell out, has always been the main reason we are in such a strong seller's market.    A healthy market has a good six months of inventory.   When we see less than six months, we are in a seller's market.  My coverage area has not seen higher than three months in three years.  Inventory this June was up 4.3% as can be seen by the numbers, but at 2.4 months, it is still historically low.   We are starting to be a bit unusual in this regard as other areas in the metroplex are seeing stronger inventory numbers with some even approaching a buyer's market.   Sellers can still expect to sell their homes in this tight inventory.  If you take care of the walls, make the floors shine, and price the home correctly, you can almost be guaranteed your house will find a buyer.   Buyers need to continue to be patient with the process and put in aggressive offers to get the house under contract, hopefully before it goes multi-offer.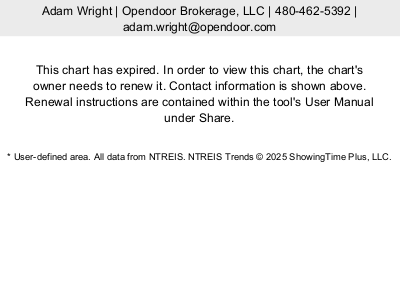 June Median Days on Market
In my coverage area, how long it takes for you to sell your home is still blazing fast at 10 days.   This number is slightly higher than the previous two years, but it is still a very quick turnaround.  As a seller, you need to be sure to speak to your real estate agent about having a plan in place to find another home for you.  You don't want to find yourself homeless or having to live with family because you didn't prepare for the quick sale of your home.  Buyers and investors should still realize that homes will not stay on the market long. You can't wait  to see a home and make an offer.   Please also remember it matters where you are looking so be sure to discuss this with your agent to build a good strategy in place on how to handle showings and offers.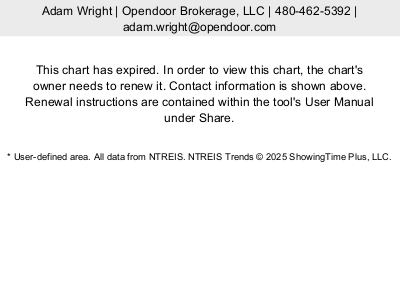 June Average Sales Price
As you read in Steve Brown's post, the average price across the entire region is $273K.   In my coverage area, it is significant higher at $319K, which is a 6.9% increase from this time last year.   "Location, Location, Location" still plays a major role in sales price.  My coverage area is in high demand so it drives prices up.   Low inventory also contributes to the high prices.   Sales price appreciation has started to fall in this area, however, as you can see by the graph below.  We are seeing single digit increase in sales price down from 9.6%.   It will be interesting to monitor this over the rest of the year.  Be sure to check back here to find out the current market trends.  See you next month as we continue to explore how things are stacking up with real estate in Fort Worth!