Welcome to my June monthly post about real estate in Fort Worth and surrounding areas. I love June because it is the month my family takes their vacation. We seem to alternate between an amusement park and a national park. This year, because my daughter graduated from High School, we did both. It has been a great (but long) trip to California to visit Disneyland and Yosemite Park. My vacation hang over is still lingering as I try to get back into the swing of things. While I was gone, the real estate market continued to be hot as we saw no slow down in our red hot seller's market.
The news from this month for real estate in Fort Worth actually parallels closely with the numbers I highlight on a monthly basis. Steven Brown at the Dallas Morning News did his usually stellar job reporting on the numbers. In this article, he highlights DFW as the second highest increase in home values (11.2%) with only Seattle higher(12.7%). Tampa (10.5%) came in third. Our median cost is higher than the national average by $10,000 with DFW coming in at $209K and the national average coming in at $199K. As anyone who reads my monthly post, you can guess the reasons for the high sales prices: low inventory and high demand.
"Inventory has been falling for years with supply no longer meeting demand, and there are multiple reasons for the worsening situation," Zillow Chief Economist Dr. Svenja Gudell said in the report. "On the demand side, simple demographic change is contributing to incredibly high demand as millennials reach their prime home-buying years and begin to enter the market in droves.
In this article, Steve Brown from the Dallas Morning News is highlighting another one of my numbers: days on market. According to the Texas AM Real Estate Center, DFW beat the state average of 55 days by 24 days in April of this year. In Fort Worth, the average time to sell a home was 30 days while the average home in Dallas was 31 days. Economist Dr. Luis Torres reflect similar reasons to Zillow's Dr. Gudell.
"Supply hasn't kept up with demand," Economist Dr. Luis Torres said in a new report "Tight inventories dragged total Texas housing sales down 5.9 percent in April," said Torres. Sales fell 9.6 percent for homes priced less than $200,000, the price range that accounted for nearly 60 percent of the total sales decline."
The article goes on to say that inventory has never been lower than it is right now, causing the fall in the overall numbers for the area. Finally, the article reinforced Zillow's claims that we are seeing higher prices than ever before in Texas. It is a wonderful time to be a seller with buyers lining up to buy homes in Texas.
For the investors reading this post, this Dallas Business Journal article goes into detail about the current status of the DFW flipping market. According to ATTOM (a data mining real estate firm), the DFW flipping market has grown by 18.2 percent despite more narrow margins being gained by investors. Nationally, the flipping market has remained flat overall with, flipped properties making up 7.2 percent of total sales last year. Investors are only realizing a 3.4 percent margin with these purchases, however, which is much smaller than most investors would like to see in their investments. The article goes on to wash readers over in many other relevant stats for flippers including a slide show showing the most popular DFW zip codes for flippers. Integrity 1st Real Estate realizes that flipping is beginning to take off in the area again and we have established a nice flipper program for our clients where investors get a break on the sale side of the transactions. We are able to provide this discount due to the volume the investors bring to the table on the buy side. We even have a daily email out of hot possible flip properties. If interested, just let me know so we can chat!
Here is my coverage area that the numbers below reflect. We do business all over the state of Texas, but this area is highlighted as we funnel most of our marketing dollars in it.
May Inventory of Homes
As I have indicated in this post many times, we are in a major shortage of available homes. There are any number of explanations for this low inventory, which is flat for our designated area at 1.8 months, but I believe the main reason is that we can't build homes quick enough. Developers are attempting to build homes, but labor shortages are slowing things down. I have had one flipper tell me that his contractor is unable to find anybody to do the hard remodel work that he requires. Despite the explanation, we are looking at very few options for buyers for another month. Just a reminder that we consider six months supply to be a healthy market. We have not seen that number for many months. Buyers will have to work quickly to get a home once one becomes available. Sellers will need to have a good contingency plan for where to go once their home sells. You don't want to live in a hotel. I suggest looking at some apartment complexes for short term leasing if you are stuck with finding a place to live while looking for your next home.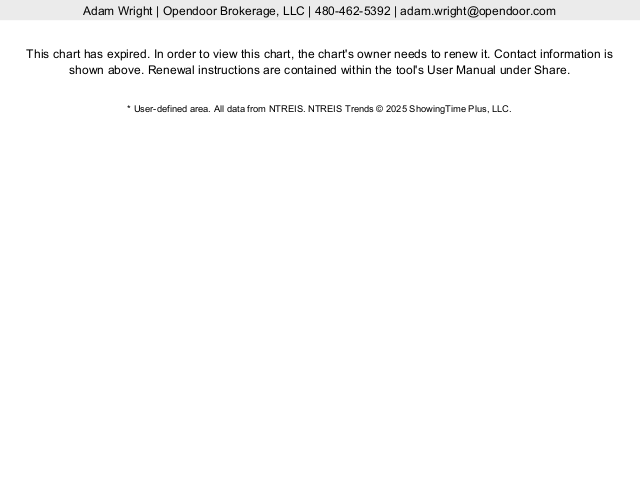 May Median Days on Market
As Steve Brown indicated in the article referenced before, we are seeing homes fly off the market right now (which is no different than many months prior to this one). In our area, we are seeing homes stay on the market for eight days before they go under contract. If a home is priced right and shows with any decency, homes are still getting multioffers the first weekend (more often than not). Buyers need to be aggressive with their offers to be sure to get at the top of the seller's list. Your agent should be sure to get the offer in as quickly as possible and highlight what makes your offer better than all the other ones. When I am on the listing side of the transactions, it is always the first few offers that I remember best. After that, they all start to blend in my mind. For sellers, real estate in Fort Worth should be exciting. You should work with your listing agent to put your home in the best light possible and make sure to price it accordingly. Overpricing can be a death sentence for a property.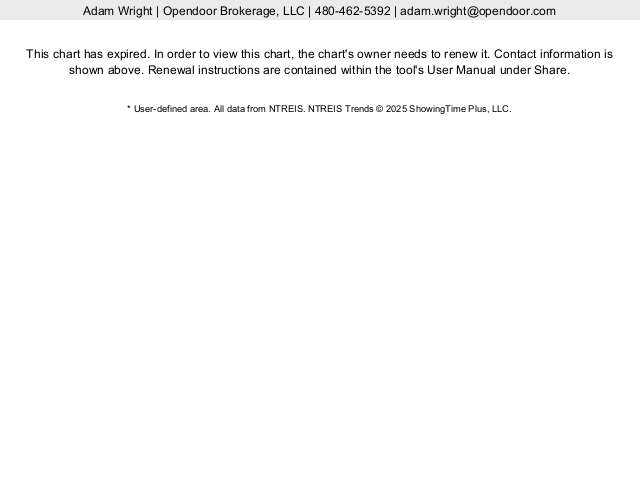 Average May Sales Price
As with the entire DFW area, our area has seen another average price increase of 4.5% from this time last year. For sellers, this great news as you will realize more profit for your home. On the flip side, some homeowners are getting fed up with the higher prices as it means their tax assessment will be higher. I held an open house last month where all the neighbors made a point to come by to tell me that we had marked the house too high and they didn't appreciate it. With some homes seeing a 100% plus increase in their property taxes, I can understand their concerns. However, sellers have the right to mark homes at the price they wish to sell. The home did sell, not at the list price, but still much higher than the homes around it. If you have ever thought about selling your home, let's chat! No better time to do it!