Welcome to my June monthly post about real estate in Fort Worth and surrounding areas. Each month, I go over three important numbers that give you a status update on the health of our real estate market. As the same time, I power through the news and summarize three articles that catch my eye. June is always the beginning of the "busy" season so you always see more interest in anything real estate. How about the weather this summer? If only the Texas Rangers can be as hot as the weather right now, we might have a winning record. I digress. Let's get to the news of the month.
My first article comes from our friends at the Dallas Business Journal on a recent study exploring whether our area will be the next Los Angeles. JLL DFW Research team saw an eerie similarity to what is happening to us right now to what happen to Los Angeles back between 1970 and 1990. Corporate relocation from California are happening at a fast clip so we are seeing more than 120K people moving to the area for the jobs. It is slightly faster than the 100k LA was seeing back in the 70s and 80s. Of course, the concern is that we are going to see prices go up as they did in California.
It's possible, says JLL Research Vice President Walter Bialas. But the region has taken adopted a growth-friendly attitude, paving the way for new companies and residents with efforts like cooperation between cities; improving mass transit and roadways; and creating family-friendly spaces with residential, retail, restaurant and entertainment options.
The article continues with a plea with developers to continue their growth in building residential areas so the affordability does not get out hand. I find this ironic. I have dealt with a lot of buyers in the last 18 months who rightly claim that affordability has already gotten out of hand. When we are seeing 30% plus increases in sales prices, you know that it will keep many buyers, who haven't see wage increases, from buying a home any time soon.
If they can't buy a house, you have to ask the question, Where do they go? The next article by my favorite Real Estate writer, Steve Brown at the Dallas Morning News, asks this exact question by exploring how developers are attempting to build more apartments here, apparently more than anywhere else in the country, for the many renters. One would think this is a good idea as it helps our area continue to grow, but for many homeowners in suburbs, they do not see it that way. Residents are flocking to zoning meetings to protest any new apartments being built near them. They are worried about increased traffic, increased crime and "more everything that is bad for a community." Really! Steve details in the article about Frisco residents crying foul at a 1000 luxury apartments. It doesn't make any sense to me. If we want to continue to grow and prosper in the area, we need the people, and with 40% of the area being renters, they have to live somewhere, or they will leave and not come back. People need to start thinking about the bigger picture!
Our last article is just a cold reminder about how busy summer can be for the real estate in Fort Worth, especially since we are continuing to have low inventory of houses, which means we continue the seller's market we have had for the last four years. I think you will see from the numbers below that sales prices continue to climb because of the lack of available housing. The article does a good job of reminding buyers that you can expect to put in several offers, many of them multioffer, before you get one accepted. You have to continue to move fast and be aggressive with your offer. If you would like to chat more about it, please reach out to me. I would love to help.
Before we get into the numbers, here is a picture of the area I target with my marketing and prospecting. I do real estate all over the area (and state for that matter), but this area is my focus. It is also is the area the below numbers cover.
May Inventory of Homes
I am sure many of you might be surprised to learn that our inventory has gone up 10% since this time last year. It is a delight to see it raise up at all, but this percent is somewhat misleading if you look at the overall number of house on the market. We are still historically low at 2.2 months. For those who need to be reminded, 6 months of housing inventory is considered a healthy market. We are in a seller's market because we fall below six months. If you are above six months, you are in a buyer's market. I have never seen a buyers market in my time as an full time Realtor. As the CBS article instructed above, this means buyers need to continue to be quick on their offers and aggressive on their terms. If you are thinking about selling your house in the next six months, you might take it up a notch and start seriously looking at it. The increase in inventory, as small as it is, has made our sales price appreciation slow down and even be flat in some areas. If you want to get your historically high sales price, my best advice is to move sooner versus later. You might not get another summer with these high sales prices for several years.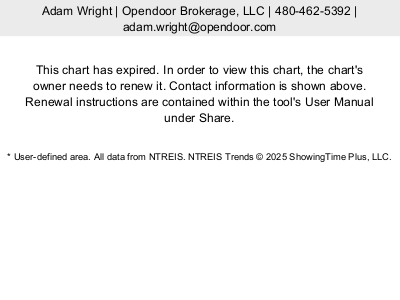 May Median Days on Market
During the summer months, we generally see more buyers so sellers will often find their homes sell much more quickly than in other parts of the year. This year is no different. As you can see from the numbers below, real estate in Fort Worth moves very quickly. We are averaging about nine days on market, which means it takes nine days for your house to get a contract executed. Sellers need to be sure to have a plan on what to do once their home sales. It can be quite alarming to think you have some time to get things packed and find another place to live and then find out you only have about thirty days(time it takes most homes to close). You should work with your listing agent to start looking for homes immediately and even have a backup plan if you can't find anything. You could always live with family/friends or even rent a short term place until you find a home.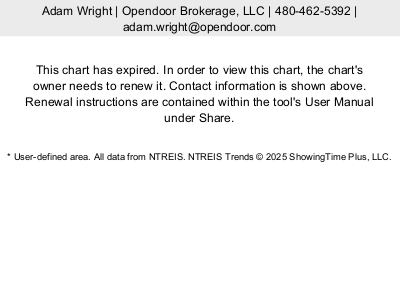 May Average Sales Price
As I have written in this post and told anyone who would listen, our sales price appreciation has started to slow down. We only saw a 4% increase in sales prices from this time last year. Sellers should not be disappointed too much yet. The prices are still going up, but I am starting to see more and more homes have sales price reductions because their good agents priced their homes at the rate we have been experiencing the last few years. Sellers find out, however, that you can't rely on historical data to predict future prices, it can only serve as a good guide. If the market is starting to slow down, you might find yourself having to readjust your sales price. Believe me, it will still sell, but not at the rate you might have hoped.