Happy March!  Welcome to my monthly report on real estate in Fort Worth and surrounding areas.  Each month, I look at some relevant news for the area and then highlight three numbers that give you a glimpse of the market as it stands today.  Investors can use this post as a way to track the market and change their tactics and long range plans.   Buyers and sellers can use this information as a way to see if the market is good fit for them to move on real estate.    If you are sure, after reading my monthly posts, that you are ready to buy, sell or invest in real estate, be sure to contact us so we can help you with this decision.  Let's start with the news that caught my eye from the last month.
As with many of my highlighted news of the month, I found an interesting one over at the Dallas Morning News written by Steve Brown(this guy really does  great job covering the industry).   Grapevine is getting another big construction project underway.  This one is a mixed development so we get another reason to drive to Grapevine.  You already have Grapevine Mills mall, and some fantastic hotels like the Gaylord Texan and the Great Wolf Lodge, so this latest addition adds to the allure of the area.
Dallas' Architexas designed the project to resemble a 19th century train station and commercial buildings. The five-story rail station will include a market, an entertainment and food hall, meeting space, offices and community event space.  A 38,000-square-foot outdoor plaza will be used for events.
The architects decided on the train station montage because the commuter rail stop being housed there.   People can travel from downtown Fort Worth to Grapevine via this rail.   I personally believe the growth of mixed used developments will continue to grow as more and more people move to the area.  People want something to do when not working and these kind of attractions draw in more companies looking for a balanced lifestyle for their employees.   Where employers move, people will soon follow.   We should all be proud of the economic development machine of the entire region.
The next article also comes from the Dallas Morning News and speaks very frankly about the prospects of mortgage interest rates continuing to go up in 2018 as the economy heats up with various pressures like the stock market volatility and the federal government having to find ways to pay for the recent tax cuts.   Interest rates are bound to go up this year in response.   What does this mean for buyers and sellers?  For buyers, it means that their mortgage buys less house and the monthly mortgage payments will go up due the increased interest rages.  Sellers might begin to see the market slow down as more buyers leave the market, waiting for a better time to move on their home purchase.   Frankly, I am already beginning to see homes above $200k in the beginning stages of a buyer's market as we are seeing many more homes staying on the market longer.  I showed some buyers 26 homes in late February along 380 east of Denton.   They had 50 more picked out to go see (luckily we found one they liked with the 26).   All of these homes had been on the market for longer than the initial weekend.    I believe it won't be long before we see homes below $200k begin to see the same glut of homes.
The last article is about how long it takes a single millennium buyer to save up that down payment for a house.  To my utter amazement, the average is 9.6 years(better than the national average of 11 years). Zillow is the one who came up with this number by looking at Census data on incomes and home value data with assumption that 10 percent of income will be put towards the down payment.    Couples have it a little easier at 4.4 years.  According to the article, by combining their incomes, they save faster and can actually afford more home once the time comes to shop for one.  If all else fails, just be glad you don't live in California where the article says it takes up to 30 years for a couple to save enough to buy a house.  It makes me wonder how anyone buys a home in California.    Buyers should shop around for mortgage programs.  There are some options available today where less down payment is required. Of course, you have to look at the long term impacts a lower down payment will mean for you as well.
Before I get into the three numbers for real estate in Fort Worth, just a quick glance at our primary coverage area the numbers below represent.   We do real estate throughout the state, however, so if you want to chat about your real estate needs, be sure to contact us.
February Inventory of Homes
Although overall, we are seeing more homes coming on the market.  In the Alliance corridor, we are still seeing a tight inventory that really has not changed in three years.   Real estate gurus like to use the months supply as a gauge for the health of the current market.   Six and below are considered a seller's market.  A buyer's market is six and over.   We have been below 2 months supply for three years running.   Investors are especially getting hit with a low inventory as most of my investor clients are not finding much to even put in an offer.   Because of this shortage, I am seeing some really outlandish offers on homes from investors.   When this happens, we usually get a bunch of homes put back on the market after the investor who bought it realizes that they got in over their heads.   I showed one this week where the foundation was so bad entire walls looked like they were about to collapse.   Hopefully, as the busy seasons gets here, we will see more investor properties come on the market.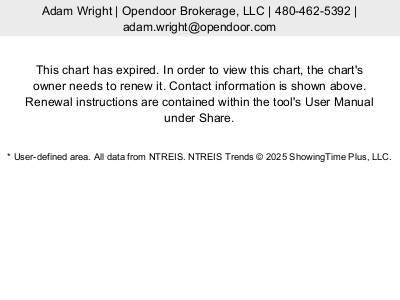 February Median Days on Market
We are seeing homes generally stay longer on the market with only the most spectacular properties going fast.   With the Alliance Corridor, we saw a 26% jump in the median days on market to 19 days, which seems like a lifetime to me considering how fast homes have been moving recently.   Sellers need to adjust their expectations on how quickly their homes will sell and expect for showings to take place for a couple of weeks.  It might be two or three offers before you get one you like.   Buyers need to still move fast on homes, but most of the buyers I have helped this year have not had to make a snap decision on homes.  They have the luxury of sleeping on their decisions.   You still need to move fast once the house comes on the market so be prepared to go see homes during the week.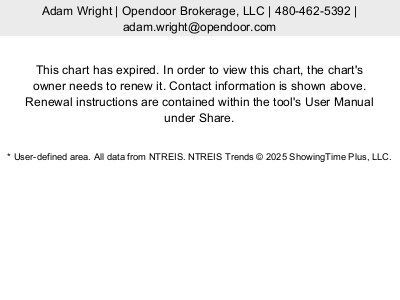 February Average Sales Price
Sales prices in our area went up another 4% from this time last year for an average sales price of $305k.   We were at $262K three years ago.  I believe we were in the $240k when I started as a agent four years ago.   It is just startling to me how high prices have gone up.   I expect that we will see this shift in the next couple of years with prices declining for the first time in awhile.  I don't think prices will drop all the way back down to their price points from four years ago, but home prices should correct themselves 10 to 12% at the beginning of the next cycle.  It will be interesting to watch!