Happy November! Thanksgiving is right around the corner and hope everyone has a blessed and wonderful holiday. Welcome to my monthly column about real estate in Fort Worth and surrounding areas. Each month I amaze and awe you with fantastic news and statistics about the local real estate industry. In keeping with the November theme, I am going to focus on the aspects of the current market that I personally am thankful. I promise to make the news I share still meaningful, but I want to center the news on the positive impact real estate is having on the local economy. We have been really blessed in this area with a strong real estate market for years and I wanted to show my gratitude.
One of the reasons we have seen such a great market for real estate in Fort Worth is the city's growth patterns. We are still averaging thousands of new people every year moving into the area for jobs, the weather and even the low cost of living. One project that has really intrigued me is the Trinity River Vision Project in downtown Fort Worth. If you have not heard about this project, you need to go check out their website to see what they have in store for Fort Worth in the next few years. Here is a brief description of what the project is all about from that website.
The Trinity River Vision is a master plan for 88 miles of the Trinity River and its major tributaries in Fort Worth. More than a decade in the making, the master plan was conceived by volunteers and community leaders, and adopted by city, county and state officials. The master plan will preserve and enhance the river corridor so they remain essential greenways for open space, trails, neighborhood focal points, wildlife and special recreation areas.
I have been hearing about this project for many years now, but it is only recently that we have started to see some real progress towards making this vision a reality. From a real estate perspective, we just had a major developer buy some land for some apartments on Panther Island. It will be called Encore Panther Island (owned by Encore Multi-Family Llc) and will be built along the first canal of the project. The Fort Worth Star Telegram article goes on to describe the complex "will accommodate a water taxi stop as well as places for kayaks, canoes and standup paddle boards to launch. Some apartments will feature waterfront balconies." A water taxi! You can see why I am excited by this project. I am so thankful that I will be around to see it happen. You can't beat watching a city transform itself into something spectacular.
We are also continuing our great expansion of things to do in Fort Worth. We have so many different options when it comes to spending your leisure time, especially here in north Fort Worth, where we have new restaurants and entertainment venues opening every month. One such opening is an upscale outlet mall just south of the Texas Motor Speedway with stores like Nike, Levi's, Banana Republic, Gap, Skechers, Old Navy, Express, Carter's and Oshkosh. This outlet mall itself is to bring in $70 million dollars to the local economy and employ hundreds, which means people will continue to move into the area to get these jobs. I am eternally thankful that our area continues to add investment and jobs to the economy. It also helps that I have more to do with my rare time off from doing real estate. I really do live in a great area and it is a great time to be alive.
Now, let's dive into the numbers for October. Before we do, please see below for my farming area that covers the Alliance corridor out to the HEB area. Although I spend most of my marketing dollars on this area, I will do business with anyone in the state of Texas.
October Inventory of Homes
How many months will it take for us to sell out our current inventory? As a real estate professional, I love this number because it does give a good indication of where we stand when it comes to the market being seller friendly or buyer friendly. For the last two years, we have seen a strong seller's market and this did not change in October 2016. Our inventory number is 2.1, which is about four months short of being a healthy market. We simply do not have enough homes for buyers on the market right now. What can buyer's do to help in getting a home in this current climate? You can work with a well versed buyer's agent on how to find the deals and submit strong offers to give you a chance against all the other buyers in the market. One trick many buyer's agents are employing is going to off market properties to see if the sellers would be willing to sell to their clients. This is a risky move for agents as buyer's agents are paid from the seller proceeds when the property is on the MLS. However, buyers are desperate enough to pony up the funds to pay the buyer's agent themselves if the off market property proves to be a good buy. In cases like this, it would be in the best interest of all parties involved to go ahead and sign a buyer's representation agreement as this will protect the agent from not getting paid and be more willing to work on these off market deals. From the buyer's point of view, a buyer's representation agreement outlines all the fee arrangements so there will be no surprises down the road. A buyer's representation agreement also fully vests the broker into the client as the broker fully represents the client in all future transactions, where if a buyer's representation agreement is not signed, the broker acts as a subagent of the seller. For more information on this topic, read the Information about Brokerage Services.
"
October Median Days on Market
When it comes to how quickly your property will sell, you can't find a better place than the Alliance corridor. We are still below 20 days at 17 days. We are at 35 in October 2014, which makes this month a 50% decrease in the median number of days on market. For buyers, this means you have to move fast to get a home. Once it is on the market, you have to go see it and get an offer into the seller. For sellers, this means you need to be able to move to another location in a short amount of time. Did you work out a contingency plan with your family or friends on where you would go when the home sells fast? If not, you need to do this as you will have as much trouble finding a place to live as you compete with the rest of the buyers in the hunt. There are plenty of stories of sellers having to put their stuff in storage and sign a six month lease to live. Be prepared, is what my scout master always told me as a kid. It is a good motto to live by with real estate in Fort Worth.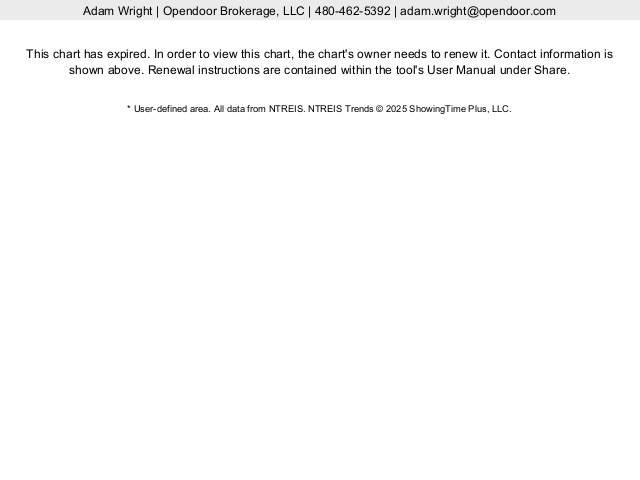 October Average Sales Price
The final number is always the favorite numbers of most people. They want to know how much their home will sell and how much profit they can put in their pockets. It is always best for sellers to get a Net Seller sheet done before accepting an offer as it can be quite a surprise how much in closing costs a seller will pay. A good general rule of thumb that seems to work is that a seller can expect to spend about 11% of their sales prices on commissions and various fees. Each property and situation is different so it is always best to get a net seller sheet from your agent outlining possible fees. With all this in mind, we saw an outlandish average sales price for my coverage area in October: $294,000. This number is a 16% increase over the average sales price from this time last year. I personally think this is nuts! It is good for sellers, but not so good for the market as a whole. We need these artificial sales prices to come back down to earth so our long term market health can be maintained. If you need more proof of this, check out my colunmn from September 2016 where I go into some detail about the dangers of not having affordable housing.