Happy October! This day begins my favorite time of the year as we get three holidays in three months, all of which I adore. Happy Birthday to my beautiful wife of 19 years! She is my soulmate and best friend. Here is looking forward to the next 61 years with her! For those new to all of this, this is my monthly column where I dive into real estate in Fort Worth and the surrounding areas. I will let you know about the news you need to know from the last month and then give you three numbers for real estate in Fort Worth. This month's column I am going to be focusing on the affordability crisis and how unhealthy our current market is in DFW.
First, let me start by writing that the housing affordability crisis in the USA is very real. Most middle income individuals cannot find a home they can afford and thus are forced to rent, or find other living arrangements. To illustrate this, I was contacted by an investor in Australia this week. She wanted to find any homes between the low end prices up to $300,000 range. I set up a home portal for her. I did a quick look at the homes found by the portal in the areas she was targeting (which was North DFW). Can you guess how many of those homes were under $150,000? Two out of the 133 found! Of course, these properties were homes recently on the market (3 days or less), but I think my point is well made here. We simply do not have enough quality homes on the market in the range most middle income earners can afford.
To back up my claims, I found two articles emphasizing the same points. The local CBS station did a great story on how the American dream is not being realized by many because of the affordability crisis. It starts off by referring to a study done by the Dallas Federal Reserve where it is revealed that "just half of the homes sold in Dallas-Fort Worth during the first quarter would be considered 'affordable' for median income families— about $61,600." This stat is further reinforced in the article by fellow realtor Jill Carpenter, who mentioned that she put in an offer in $10,000 above asking and still didn't get the home. When asked what buyer can expect to find for under $300,000, she responded "not much"
"If you're talking about Northwest Highway to downtown? Not much… a minimum of $400,000 but really a half a million to get something nice," said Carpenter.
Housingwire also had an article detailing where the Dallas market stands. They did not see good things in our future. Basically, they found a "hidden danger" in the recent reports coming out on the area's real estate. Comparing Dallas to San Francisco, they worried about the Dallas market becoming "overheated" as prices continue to climb to very artificially escalated points. Will the area's wages be able to keep up with the raising prices? The article also mentioned that the National Association of Realtors recently listed Dallas as the number two area in most need of affordable housing, which further reinforces my point in this column. We simply do not have enough affordable housing in North Texas. Hopefully, we will see some relief in the near future for affordable homes, but right now, nothing is showing any signs of change. If you have some ideas for how to deal with this crisis, please do not hesitate to reach out to me to discuss. I would love to hear opinions on this matter.
On the lighter side, realtor.com recently released the hottest zip codes in the country based on how quickly they sold and how many times homes were viewed on the real estate portal. I was surprised to read that Watauga was the hottest town in the country using these metrics. Pretty cool! If you don't know much about Watauga, it is a small suburb of Fort Worth in North Tarrant County. It has a very high concentration of population for its geographic area, which only makes up 4.2 square miles. Way to go Watauga!
Before we get into the numbers, please see below for the coverage area of the numbers, which I have labeled the Alliance Corridor (plus a few miles to either side). I am in the midst of working with investors as the traditional market tends to slow down. I will be willing to discuss real estate with anyone.
September Inventory of Homes
As I have already written in this post, we are seeing some unhealthy inventory numbers in the market today. Although the inventory went up slightly(to 2.2 months from 2.1 months), we are still in a very tight market as six months inventory is considered a healthy market. Why are we not seeing more sellers on the market today? From my conversations with sellers, it seems that three reasons predominate. First, most sellers are happy with their current homes enough to stay put and not enter into the fray of trying to find another house after selling their current property. It is a catch-22 situation. Sellers don't want to sell because of the low inventory, but we can't get a higher inventory unless sellers sell. I have also heard from many sellers that they don't believe that they can afford to sell their homes right now. Most of these sellers say that they don't own enough equity in their homes to sell, or they got such a great rate when refinancing that they don't want to see their interest rates go up. Finally, many sellers seem happy where they are and with roots planted deep, they don't want to move. I know the feeling! It would be difficult for me to move any time soon with my current living situation.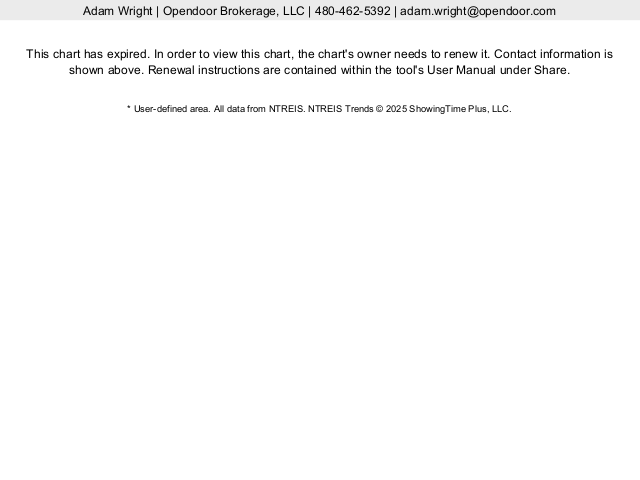 September Days on Market
How long will your home stays on the market if you sell? From 2014, we have seen this number fall an amazing 70% at this time of the year from 32 days to 12 days. As I have written before, this number is tied closely to the inventory issue we are facing today. Since we do not have enough homes on the market, buyers are putting in offers that move homes very quickly. I have put in offers with no option period for some investors recently. I know this sounds like a risky move as most buyers want to have the ability to get out of a home for any reason. It provides a security blanket for the buyer. I can understand investors taking the chance as many of them are seasoned enough to know what repairs to expect in a property. I have heard of traditional buyers doing the same thing lately. I don't recommend it at all! You simply do not know what hidden defects exist in a home. It is too much of a risk.
September Average Sales Price
This number keeps amazing me! We have seen another rise in the sales price with real estate in Fort Worth and surrounding areas. Homes are now averaging $284,000 sales price in my coverage area of Alliance Corridor. It was $214,000 in 2014. This artificial escalation of sales price in our area simply cannot be maintained. I would be shocked if we don't see any sort of correction to the sales price issue in 2017. Just another reason for sellers to leap on the bandwagon right now. You might see your homes value top out soon. If you know you want to sell, don't wait. Please call us and we can work out a plan to sell your home and get you into another one.