Happy October.  One of my favorite months of the year.  My wife celebrates her birthday (Happy Bday, Honey!) and we get to give candy to trick treaters.    It is also the start of the holiday season which happens to be my favorite part of the year.   For those new to my monthly posts, this is my opportunity to tell you about some real estate news that caught my eye from the last month.   I also enlighten you with my wisdom on three numbers about the Alliance Corridor.  Hopefully, my infinite wisdom will help you with real estate in Fort Worth.
Before I hit the news, I wanted to announce the new name of this blog (as I am sure many of you have noticed) is now GET REALty.   I decided to make this switch because my brokerage NextHome has an amazing website for their agents to use for their clients.  If you are curious about it, you can check it out at adamwright.realtor.    Yes, that URL used to go to this blog, but we have bought a new domain, getreal-ty.com, to better describe my efforts with this blog.  It is going to be a blog about real estate and not really tied directly to my real estate business per se (although I advertise on it heavily for my services).  My hope is that I can provide posts on this blog that is more impartial and more useful to the average reader versus blog posts geared towards driving more business to my agency.   This blog will be changing greatly as i change the look and feel, expand the content a bit and add services.   I would love feedback.   Just contact me if you have any to give.
For the first news item I am going to my favorite real estate blog over at the Dallas Morning News where Steve Brown writes that the slowdown we are experiencing is actually worse than first thought.   North Dallas saw the worst of the slowdown with many communities/neighborhoods seeing double digit slow downs.
Sales last month were down almost 31 percent in Far North Dallas. They dropped 24 percent from August 2017 totals in Allen, and were off 21 percent in Coppell. Plano had a 16 percent year-over-year sales decline and sales were down more than 11 percent in Richardson and about 9 percent lower in Frisco.
According to the post, real estate in Fort Worth overall saw an increase of 1 percent while Dallas saw a decline of 4 percent over this time last year.   Mortgage professionals also reported a 15% decline in loan applications from this time last year.   As you would expect when markets are in transition, not all the news was bad as several areas still seeing strong sales numbers and only Dallas as the lone city that saw declining numbers.   It should be remembered that this market has been so strong the last few years, that a decline does not necessarily mean the market is tumbling, it just is not as robust as it has been the last few years.
My second article highlight is the first one I have seen about the upcoming 2019 market, which appeared in this post from the Dallas Business Journal. PricewatersCoopers and the Urban Land Institute released a report for 2019 and ranked us as the number one market for real estate prospects.  Austin and San Antonio also made the list.   What are the reasons for our high ranking?   The report highlights the low cost of living and the discipline shown by the real estate market as indicators a strong market for 2019.    Low unemployment and large population growth also contribute to our high marks.  There is some negative items brought out in the report such as affordable housing.   Developers of affordable housing have been hit with community/political push back when attempting to build the properties.  In fact, it adds so much to the bottom line that many developers refuse to even start the process if it is determined the surrounding community and politicians are going to cause a ruckus.   The best bets, according to the post, is industrial development, garden apartments, quick flip, value add deals and repurposing of retail space.   Issues were listed as immigration, cybersecurity, infrastructure and insurance costs.   Frankly, I feel the discipline we have shown for real estate development is one of the issues leading to affordability.   It is interesting take on what many have written (myself included) is a black mark for us that we are not building as fast as we could.
The last article I am highlighting this month comes from the Fort Star Telegram.   The company OfferPad is highlighted. This non-traditional real estate brokerage claims to make the real estate process much smoother by eliminating the need for a listing agent.  Instead, you go online, fill out a form and get an offer for your house within 24 hours.   After some inspections, the final price is determined and the paperwork signed.  You can close on your house in two weeks or even stay there until you find a new place to move.   I include this article in my monthly post as it does a good job of highlighting that  consumers have a lot of options available beyond the traditional real estate agent.   You should be sure to read the fine print of any company, both traditional and new, to make sure you are actually getting the deal promised, but you should be able to find a solution when it comes to selling your home.   I will be exploring this topic further in a future post, probably through my emerging tech feature.
Before we get into the numbers, here is the area the numbers are based.   I use this area because this is the area I live and work.   It is also a good microcosm of the entire Dallas-Fort Worth region.
September Inventory of Homes
How quickly will the homes currently sell out to the buyers looking for homes?  This statistic is called months inventory.   Generally, the higher the number the more it is a buyer's market.   Lower numbers indicate a seller's market.   We have been below three months for three years running.   We are seeing more homes getting listed to the tune of 18.2% more in the last two years.   With more homes on the market, sellers should be even more considerate of their home's sales price.   Buyers will have more homes to see so you need to price your home correctly in order to get it sold within a decent amount of time.  Buyers should realize that they don't necessarily have to jump on the first home that comes their way.   They can wait to shop if they don't find something right away.   Investors need to realize that the times scarcity might be coming to end in the next few years.   Do you rush to invest now when you might have more selection next year or even in the new decade?
September Median Days on Market
Twenty two days is how long the average seller had to wait for their house to sell.   Doesn't seem too long right?  It is compared to 2016 when the days on market was 13 days.   It has gone up over 60% in two years.   With more homes on the market, this uptick makes sense.  Buyers don't rush to get the first home they find.  Sellers should be sure to make sure their homes show well and keep them presentable. If you want your home to sell more quickly, a clean, clutter-free house is a requirement.   Buyers should be aware that the slower market does not mean that great properties will remain on the market any longer than when things moved at supersonic speeds.   If you see something you really want, get your realtor to put in an offer quickly.  It is sometimes the first offer that gets the house versus the best one.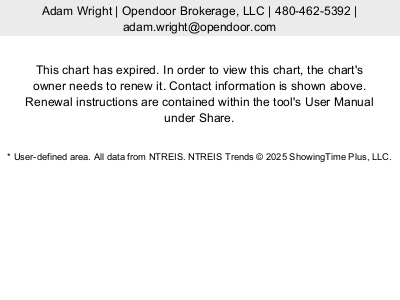 September Average Sales Price
Real estate in Fort Worth is like everywhere else.  Most people want to know this statistic over all others.  How much will my house sell for?  How much will I have to pay for a house?   Will my investment give me a good return based on the sales price?   For the first time since I started these monthly posts about real estate in Fort Worth, the average sales price went down in our coverage area.   It was not much, just .3%, but it is still strange to see a negative in this statistic.   Sellers should not be alarmed yet since we are still seeing historically high sales prices. If you went away from the market as a buyer because the high prices, it might be time for you to start looking again.  Investors should start looking as well as we are seeing more homes drop their prices on a more regular basis as buyers are not picking up what they did this time last year.