Welcome to my September post about all things real estate in Fort Worth, where I do my best to keep you up to date on the important numbers and also highlight some of the more interesting real estate news of the past month.  Before I do, however, I ask that you take a few minutes to reflect on those recently impacted by a life event.  In life, we are hit with events that change your life in a very sudden, forceful ways.  The events range from a major disaster (as with the hurricanes, earthquakes and fires across the globe) to losing a loved one too soon (either over the rainbow bridge, or through a crippling life changing illness).  We simply do not know when one of these events will happen, but they happen to all of us.   When the pain is bearable (and it will be one day), seize the moment in front of you and forge ahead stronger. We can overcome!
Now, on to the news of the month.   I found myself reading quite a bit about new homes this last month.   In this article,  we face the hard facts that come along with having a major disaster hit (Hurricane Harvey) our fine state.   In DFW, we are facing even long build times for new homes because of labor shortages and hard to find materials driving up prices.   What used to take four months to build a house, now takes up to eight months.
"There is a labor shortage all around and generally Harvey did not help," said Scott Jacobsen, purchasing manager at Riverside Home Builders, which builds communities in Fort Worth and Dallas. While his company has contracts in place to keep prices fixed for supplies like lumber, Jacobsen said he wouldn't be surprised to see overall material prices increase.
The labor shortage was already in place because we had so many workers leave the country due to tighter immigration policies, but now we might see several of the laborers flocking to the gulf coast where work will be steady for a long time to come.   Luckily, the article indicates that it might be a few months before we see any of this labor migration as insurance adjusters work the huge load of paperwork the hurricane gave to them.
On a much more positive news, some builders are finally starting to build homes again for first time millennial home buyers.   In this article, Gehan homes new moderately priced home communities is highlighted.   The homes start at the very reasonable $220k and include all the usual amenities you would expect in a new build including granite counter tops and covered patios.   This price is below the median sales price for the area (a full third cheaper than most Gehan homes) and is a very welcome development in my mind.   With less than 7 percent of the homes on the market below the median, it gives millennial home shoppers more options when looking for their first home   The new line, called Gray Point Homes, is being built in the DFW area and Houston.   DR Horton and Ashton Woods are also starting similar lines of less expensive homes.
For my third article of the month, I went with another piece about how the great market for real estate in Fort Worth.   Our economy has been one of the strongest in the nation since the big recession last decade and we are one of the top markets to have fully recovered when it comes to housing price levels.  Dallas is third in the nation with Fort Worth coming in fifth.
In the second quarter of 2017, home prices in the Dallas area were 56.7 percent above their peak values in the mid-2000s, just before the recession; for the Fort Worth area, it was 47.5 percent.
Denver was number one with Austin Number two.  Houston came in at four while San Antonio came in at eighth.  Be sure to read the article until the end as they speak about another poll that showed our real estate in the area is not as good as we might think with it being 396 our of 400 metro areas when it comes to the health of the market.  The survey was done by Nationwide Insurance.
Before I get to the numbers, I wanted to let you know where I focus my efforts when it comes to real estate in Fort Worth. It also happens to be the area where I pull the numbers for these reports.   We do business all over the metroplex so don't be shy about reaching out to discuss you real estate needs with me.
August Inventory of Homes
Inventory has not moved much in the last year as we are still seeing a lot less homes on the market than we do buyers looking to buy one.   The whole DFW area has been stuck on two months inventory for three years running, but we are starting to see some relief as new home builders are picking up the pace and more sellers are coming to the market to take advantage of this incredible seller's market while I am personally seeing less buyers seeking information on homes.   For those not in the know, six months inventory is a healthy market.  By inventory we mean how long it would take the current homes on the market to sell out if no other homes became available.   We are in a seller's market because we are below six months.  Buyer's markets are when the inventory is above six months.   Buyers still in the market are facing some tough competition to get a home with almost all homes getting showings immediately with several still facing multioffer situations.  Sellers should hurry to get their house on the market if they are interested in taking advantage as I am not sure how much longer we are going to be seeing this kind of market.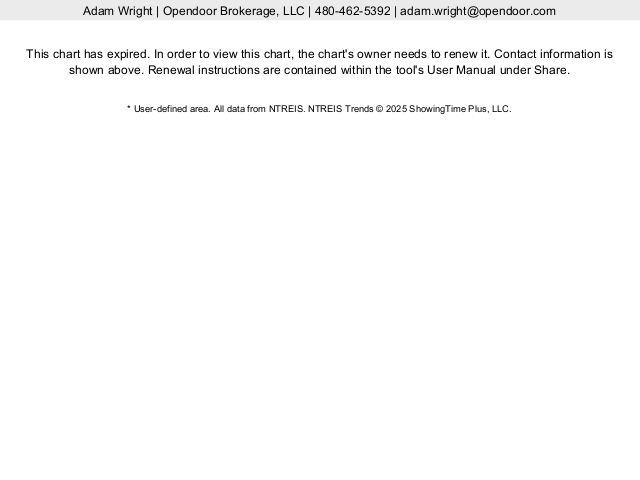 August Median Days on the Market
Well, this is not something you see everyday.  We have seen three straight years of 12 days on market for this area in August.  I am no math genius, but I believe this pretty incredible run of the same number for DOM.   Of course, this chanes depending on your location.  If you are seller researching this stat for possible sell of your home, just reach out to me and I can run it for you zip code and even for your subdivision.   Be sure to have a great plan on moving to another home when you do decide to put your house on the market.  With these quick turn arounds on selling homes, you won't have a lot of time to look so you might need to arrange for some temporary housing while you search for you next forever home.  There are plenty of options for this step if you need to take it.   Just google it, or ask around.
August Average Sales Price
This statistic always seems to be seller's favorite one, which I can't blame them.  We all want to know at what level our home will sell.   For this month, we saw a 4% increase from last year.  This is actually tame to other months, but I have to stress that these sales prices are very different from community to community.  If you are curious about your own home value, go here and I will get you a Comparative Market Analysis (CMA) within 24 hour which will include what price range I will list it.   Let's chat!